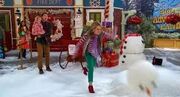 Linda, Bob's mother, returns once again to celebrate Christmas with the Duncan family much to Amy's dismay. Things go awry when Amy and Linda learn they are performing the same song at the annual Duncan Christmas Eve talent show. Meanwhile, Teddy and Spencer take Charlie to see Santa Claus at Super Adventure Land, but when Santa decides to leave when it is their turn, Teddy takes matters into her own hands. Elsewhere, Bob struggles to find the perfect gift for Amy.
Ad blocker interference detected!
Wikia is a free-to-use site that makes money from advertising. We have a modified experience for viewers using ad blockers

Wikia is not accessible if you've made further modifications. Remove the custom ad blocker rule(s) and the page will load as expected.