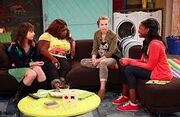 Teddy is heartbroken when Spencer announces he is moving to Boston to after being admitted to a performing arts school. Now, they must deal with maintaining a long distance relationship. Meanwhile, Bob catches a rare species of termites, which later get loose in the house and start destroying everything. Elsewhere, Amy starts her own mommy blog to compete with Debbie Dooley. With Toby now sleeping in his room, Gabe tries to find a new room for himself in the house. In the end, the Duncans are living in a hotel for the time being and PJ tells the family that he dropped out of college, but only because he wants to go attend culinary school.
Ad blocker interference detected!
Wikia is a free-to-use site that makes money from advertising. We have a modified experience for viewers using ad blockers

Wikia is not accessible if you've made further modifications. Remove the custom ad blocker rule(s) and the page will load as expected.