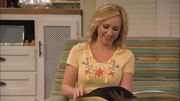 Teddy has been meaning to buy a used car. An excellent offer comes up when Mary Lou Wentz wants Harry Wentz to sell his car, that he calls Gracie, because it takes up too much space in the garage. Teddy buys the car and on the way home, she wrecks it severely. Meanwhile, Amy is offended and upset that Charlie will not make a scene while getting dropped off at preschool, which leads to Mommy & Charlie Day, a day where Amy bonds with Charlie, hoping she will cry when she drops her off at preschool the next day. The next day, Charlie gives Amy a heartwarming hug. Elsewhere, PJ and Gabe try to finding Bob a friend to avoid going on their annual father and son fishing trip.
Ad blocker interference detected!
Wikia is a free-to-use site that makes money from advertising. We have a modified experience for viewers using ad blockers

Wikia is not accessible if you've made further modifications. Remove the custom ad blocker rule(s) and the page will load as expected.