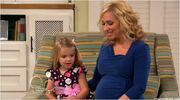 Amy convinces Mary Lou Wentz to throw her a baby shower, but the shower takes an unexpected twist when Charlie blurts out all the horrible things Amy said about her guests. Innocent Charlie makes them angry and causes them to leave. Meanwhile, Teddy and Ivy must complete their community service school or they do not get to graduate. Furthermore, PJ and Gabe compete to go to a hockey game with Bob.
Ad blocker interference detected!
Wikia is a free-to-use site that makes money from advertising. We have a modified experience for viewers using ad blockers

Wikia is not accessible if you've made further modifications. Remove the custom ad blocker rule(s) and the page will load as expected.