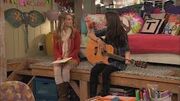 Teddy and Skyler compete against PJ, Spencer and Emmett in the annual battle of the bands competition at the mall. Teddy then finds out that Skyler and PJ are dating and neither of them want to do the competition any more. Meanwhile, Bob asks Gabe to take a gift back to a rich boy in his class. When Bob goes to the boy's house to return Gabe's gift, he goes back on his word and befriends the boy's father. Also, Amy takes credit for a painting done by Charlie after her art teacher says she has no real talent and that Charlie's painting is a work of art.
Ad blocker interference detected!
Wikia is a free-to-use site that makes money from advertising. We have a modified experience for viewers using ad blockers

Wikia is not accessible if you've made further modifications. Remove the custom ad blocker rule(s) and the page will load as expected.