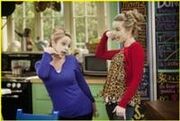 Bob gives Teddy and PJ new cell phones. Teddy tries to fool Amy into thinking that she is a "cool mom" by hanging with her to attend a midnight screening of Dusk (a parody of Twilight). But when she accidentally butt-dials her mother and says the whole thing, Amy and Ivy's mother get revenge by embarrassing Teddy and Ivy at the premiere. Later, the girls apologize. Meanwhile, PJ is stuck doing a science project with Van Brundt, the school bully, but PJ accidentally butt-dials him a voicemail scorning him. Gabe gets a new remote control helicopter, and tries to get rid of Charlie's new singing stuffed horse, although fails to do so.
Ad blocker interference detected!
Wikia is a free-to-use site that makes money from advertising. We have a modified experience for viewers using ad blockers

Wikia is not accessible if you've made further modifications. Remove the custom ad blocker rule(s) and the page will load as expected.