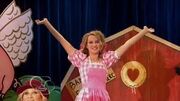 Teddy and Spencer have been secretly rehearsing a musical, "Franny Saves the Farm!", where Teddy has been cast as the lead role. Amy overhears Teddy and Spencer talking about through the baby monitor and follows them; Amy is shocked when she blows their cover. Teddy did not want to tell her because Amy hogs the spotlight. In the end, Amy fills in for one of the cast members due to him breaking his leg. Meanwhile, Bob desperately wants to catch an anaconda to prove to Gabe that he is cool. Plus, he also to one-up Quint (Allan Havey), an animal control rival. Meanwhile, Mitch, PJ's boss, asks him to investigate who has been stealing chicken from Kwikki Chikki.
Ad blocker interference detected!
Wikia is a free-to-use site that makes money from advertising. We have a modified experience for viewers using ad blockers

Wikia is not accessible if you've made further modifications. Remove the custom ad blocker rule(s) and the page will load as expected.