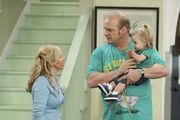 After PJ creates a funny video of Charlie, he posts it on the internet; the video becomes an instant worldwide sensation. Since the "Farty Charlie" is so popular, the Duncans are interviewed live on TV. Meanwhile, Teddy meets Spencer's parents, Paul and Linda (Maurice Godin and Stacey Travis). Teddy is impressed by their sophistication and peaceful lifestyle in comparison to the Duncans' loud and messy home. Paul and Linda watch the Duncan interview on TV, unbeknownst that they are Teddy's family, and insult them. Teddy reveals to them that that is her family and she has been hanging out at their house pretending to be apart of the Walsh family, but Teddy finally accepts that she is Duncan, and for that, she is proud of.
Ad blocker interference detected!
Wikia is a free-to-use site that makes money from advertising. We have a modified experience for viewers using ad blockers

Wikia is not accessible if you've made further modifications. Remove the custom ad blocker rule(s) and the page will load as expected.