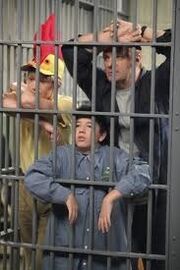 It's Charlie's second birthday; the family wants to give her an extraordinary gift. Bob's idea of a gift is giving Charlie a pony ride. Things go haywire when he rents a pony that is stolen; Amy tries to bribe the police, but, instead, they end up in jail. Charlie's love for The Gurgles, a popular kids TV show, gives Teddy the idea to buy tickets to their next concert, but to their dismay, the concert sells out before they obtain tickets. Furthermore, they try to win tickets by entering a video contest. Unfortunately they lose. They seek help from a Gurgle, but he refuses to give them tickets. Charlie and Gabe sneak in but end up getting caught and thrown in jail. Elsewhere, PJ tries to sell one of his songs to one of the Gurgles. As a result, he also goes to jail. Surprisingly, one of the Gurgles sings one of PJ's songs to the other Gurgles. He sells the song and uses the money to bail the Duncans out of jail.
Ad blocker interference detected!
Wikia is a free-to-use site that makes money from advertising. We have a modified experience for viewers using ad blockers

Wikia is not accessible if you've made further modifications. Remove the custom ad blocker rule(s) and the page will load as expected.