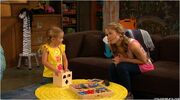 Teddy is excited when the school doing a production her play, with Ivy as the director. Teddy wants Ivy to cast Charlie as the lead role, but first, she must audition. At the audition, Charlie refuses to say her line, but the next girl, Tammy (Gianna Gomez), rocks her audition, and makes Teddy jealous, so she pushes Ivy to cast Charlie as the princess, hoping that she will say her line. Meanwhile, Bob has lost a lot of weight, and he is excited that he can finally shop for regular clothes. Everyone is stunned when Bob gets carried away with his new makeover. Elsewhere, Gabe must do a report on an older person, so he decides to write it on their neighbor, Bert Doogan (Dan Desmond), stating that he had an amazing career as an astronaut. His teacher tells him that if Bert speaks to the class, she will give him extra-credit. When Bert refuses to show up and lie about his job, Gabe makes PJ pose as Bert.
Ad blocker interference detected!
Wikia is a free-to-use site that makes money from advertising. We have a modified experience for viewers using ad blockers

Wikia is not accessible if you've made further modifications. Remove the custom ad blocker rule(s) and the page will load as expected.