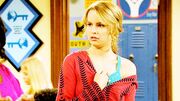 When Teddy finds out she has a reputation as a goody goody, she ditches school with Ivy to earn a bad reputation. Teddy is nervous because she has never ditched before. Meanwhile, PJ tries to make a dress for Charlie for a Home EC class. Also, Gabe tries to get himself ungrounded by bringing an old love poem from Amy's high school days back to light, which he thought had been written by his father. It turns out it was written by Bob Diddlebock. Amy has kept it for years because it is the only love poem she ever received. In the end, Bob writes her a love poem as well and they reconcile.
Ad blocker interference detected!
Wikia is a free-to-use site that makes money from advertising. We have a modified experience for viewers using ad blockers

Wikia is not accessible if you've made further modifications. Remove the custom ad blocker rule(s) and the page will load as expected.