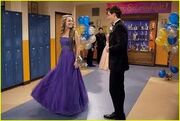 Since Teddy is going to her prom, Amy takes out her old prom dress and lends it to Teddy so she can wear it, too. Teddy thinks the dress is outdated, but she does not say anything to spare Amy's feelings. On the night of her prom, she leaves with Amy's dress but immediately changes at school. Meanwhile, PJ needs a date for his prom, so when the pizza delivery girl, Taylor, shows up he becomes attracted to her and they go on a date. Taylor asks him to her prom, PJ accepts. What PJ does not know is that she is homeschooled and the prom is in her basement. After going to the doctor and getting an ultrasound, Amy does not want to know the gender of the baby until it is born. On the other hand, Bob is anxious to know, so he asks Gabe to help him get the ultrasound of the baby. Gabe accidentally grabs the wrong ultrasound. Instead of taking Amy's ultrasound, he grabs Angela Duncan's, who is having triplets. In the end, Bob's mother wants to know the gender of the baby; the doctor is about to reveal it, but is cut off as the episode ends.
Ad blocker interference detected!
Wikia is a free-to-use site that makes money from advertising. We have a modified experience for viewers using ad blockers

Wikia is not accessible if you've made further modifications. Remove the custom ad blocker rule(s) and the page will load as expected.