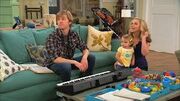 After Bob tells Teddy that she is not ready to take her driving test, Teddy offers to drive Mrs. Dabney around town. She accepts her offer; they drive around town, helping Mrs. Dabney to complete her errands. At last, Teddy drives Mrs. Dabney to see her sister at the mountains. Eventually, they run out of gas and become stranded. Meanwhile, the Duncan's are preparing for Teddy's 16th birthday; PJ and Gabe have a hard time looking for a present for Teddy. In the end, Bob tells Teddy that he does not want her to drive because driving means leaving. When she leaves, she is never going to come back. Teddy and Bob share a moment and later reconcile. PJ and Gabe make up for not giving her a present by making a rap for her. The episode ends with Teddy earning her license; she is happy because she has the freedom to drive wherever she wants, but to her dismay, the entire family makes her go out to run errands.
Ad blocker interference detected!
Wikia is a free-to-use site that makes money from advertising. We have a modified experience for viewers using ad blockers

Wikia is not accessible if you've made further modifications. Remove the custom ad blocker rule(s) and the page will load as expected.