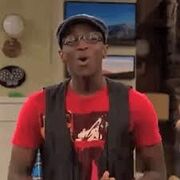 Emmett (Micah Williams) is PJ's best friend. He is slender, comedic, and has a desperate, misguided & very one-sided attraction to Teddy, though Teddy constantly rejects him. Emmett accompanies PJ on the drums in his band "PJ and the Vibe", and sometimes assists PJ on his problematic excursions. Emmett has a nephew named Mason who, he claimed, was better than Charlie, until Charlie beat Mason in a "baby race" by learning to walk. Emmett is also an incredible dancer, with skills matched only by Spencer. He once went out with Ivy when they were younger. In his mind, he sees himself as being suave, sophisticated, and very attractive to girls.
Ad blocker interference detected!
Wikia is a free-to-use site that makes money from advertising. We have a modified experience for viewers using ad blockers

Wikia is not accessible if you've made further modifications. Remove the custom ad blocker rule(s) and the page will load as expected.