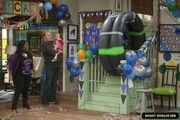 Amy and Bob make up for not throwing Gabe his much delayed 12th birthday party by giving him a 12-½ birthday party, after Gabe promised to be good for a whole week. Unfortunately, Gabe's party falls on the same day as a huge blizzard. Meanwhile, Ivy and Teddy cannot get along with Ivy not liking Teddy's new boyfriend Derek, which causes a rift in their friendship. They go to each other's houses to settle their differences, the same day as the snow storm. Teddy is driven crazy by Ivy's parents Mary Lou and Harry (Ellia English and William Allen Young) while Ivy is having a great time celebrating Gabe's 12-½ birthday. Meanwhile, PJ helps Bob lose a few pounds.
Ad blocker interference detected!
Wikia is a free-to-use site that makes money from advertising. We have a modified experience for viewers using ad blockers

Wikia is not accessible if you've made further modifications. Remove the custom ad blocker rule(s) and the page will load as expected.