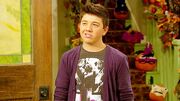 Gabriel[13] "Gabe" Duncan (Bradley Steven Perry) is the middle child of the Duncan children, being both the younger brother of Teddy and PJ, and older brother of Charlie and Toby. It is demonstrated early in the series that Gabe does not approve of Charlie's arrival and takes the longest, of all the Duncans, to get used to her. However, he often reluctantly assists with taking care of Charlie and is gradually beginning to demonstrate more fondness of her. He is a prankster and troublemaker, often sarcastic and lazy, but can also be dutiful and determined at times. He is front-man when it comes to the Duncans' running rivalry with Mrs. Dabney, their neighbor, who is often the target of Gabe's pranks and cracks, which is the only time the family doesn't mind them. He is the only Duncan to have brown hair, unlike the rest of his family, who all have blonde hair. One time he was in a commercial with a fake mom (Perry's real-life mother, Kim) where he claims "she looks more like my mom than my real one." A running gag in the show is that he insults Bob because of his weight and baldness, Amy's cooking, PJ being a goofball, Teddy being a "goody-goody," and occasionally Charlie. He also likes to harass and tease Mrs. Dabney, as he finds her annoying, for example, when she came to their doorstep, he says he's not feeling well and he says he's got a bad case of "Dabneriah" (which Amy finds amusing) or when she tricked him and PJ into digging a hot tub, they poured green food coloring in it, turning her green. Whenever there is a special occasion, he wants to skip the ceremony and get to the cake, like Charlie's first birthday. In "Special Delivery", he said he wanted a younger brother (who is later born in that episode) because he wants to be able to tease him, rather than teasing PJ. He also won the baby naming contest and so his brother's name is Toby. Like his sister Teddy, he makes video diaries for Toby, ending with Good Fortune, Toby!. Also, it was revealed that when Gabe was a baby he was a calm and easy child.
Ad blocker interference detected!
Wikia is a free-to-use site that makes money from advertising. We have a modified experience for viewers using ad blockers

Wikia is not accessible if you've made further modifications. Remove the custom ad blocker rule(s) and the page will load as expected.