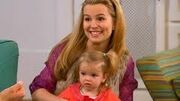 Charlie bites Spencer because she suspects something is going on with him. Teddy is worried Charlie's biting will put their relationship in a crisis, but it is proved that Charlie's hunch is right when she meets Spencer with another girl Skyler (Samantha Boscarino). Teddy breaks up with Spencer and is heartbroken. Meanwhile, Gabe takes advantage of PJ by tricking him into signing a contract that says he has to drive Gabe wherever he wants to go. To get back at him, Amy pretends to be a ghost that haunts the car when Gabe sits in it.
Ad blocker interference detected!
Wikia is a free-to-use site that makes money from advertising. We have a modified experience for viewers using ad blockers

Wikia is not accessible if you've made further modifications. Remove the custom ad blocker rule(s) and the page will load as expected.