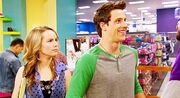 After Teddy and Spencer get into an argument, Spencer goes over to apologize, but, instead, ends up getting advice from Bob on how to handle a Duncan woman because, according to him, he is an "expert", unbeknownst that Amy is overhearing their conversation. Meanwhile, Bob has been on Gabe's case lately, so in order to get out of yard work, he and his friend, Logan, spend the weekend at PJ's apartment. Plus, Amy is concerned that Charlie still does not get along with Toby, so she convinces Charlie that Toby can talk. When Charlie and Toby are alone, Amy uses a baby monitor and pretends to be Toby. When Amy asks Charlie if she loves Toby, she responds by saying "yes" and it warms Amy's heart.
Ad blocker interference detected!
Wikia is a free-to-use site that makes money from advertising. We have a modified experience for viewers using ad blockers

Wikia is not accessible if you've made further modifications. Remove the custom ad blocker rule(s) and the page will load as expected.