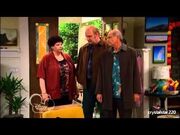 Frank (Alan Rachins), Bob's father, comes over for Thanksgiving and begins a romance with the newly divorced Mrs. Dabney, much to Bob and Gabe's dismay. Meanwhile, since PJ has a passion for cooking, he tries to trick Amy about cooking the turkey. Elsewhere, Teddy and Ivy attempt to wait in line at an electronics store to get a MyTab (a spoof of the iPad), which are on sale.
Ad blocker interference detected!
Wikia is a free-to-use site that makes money from advertising. We have a modified experience for viewers using ad blockers

Wikia is not accessible if you've made further modifications. Remove the custom ad blocker rule(s) and the page will load as expected.