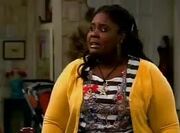 Ivy, like Teddy loves everything green. Ivy used to date PJ's best friend Emmett She hates reading, homework and school. She does not care what people think about her. She loves fashion and says most of the clothes in her closet are animal prints. It is implied in Teddys Little Helper that she does not often get good grades, as she tells Teddy she usually changes her "D"s to "B"s. She is embarassed to admit it but she is fond of country music. She spends most of her time at the Duncan house, because she finds her house and her parents to be boring. It is believed that Ivy is an only child as she never mentioned any siblings. She has a chocolate problem The Curious Case Of Mr.Dabney. She is interested in texting, shopping, and boys. It is never mentioned if she plays any sport or is in any activity. She has ditched school more than once.
Ad blocker interference detected!
Wikia is a free-to-use site that makes money from advertising. We have a modified experience for viewers using ad blockers

Wikia is not accessible if you've made further modifications. Remove the custom ad blocker rule(s) and the page will load as expected.