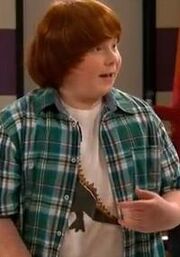 Jake (Tucker Albrizzi) is Gabe's friend. He first appeared in "Pushing Buttons", where he bought Gabe's bike from him for $10. He then appeared in "Baby's New Shoes", where he went to a movie theater with Gabe and Teddy to help her expose an employee selling children age-inappropriate movie tickets in exchange for money. He also appeared faking a broadcast with Gabe at the end of the episode. He made another appearance in "Termite Queen", where he helps Gabe shoot a monster movie, and "Special Delivery", where he convinces Gabe to buy a video game over a toy for Charlie.
Ad blocker interference detected!
Wikia is a free-to-use site that makes money from advertising. We have a modified experience for viewers using ad blockers

Wikia is not accessible if you've made further modifications. Remove the custom ad blocker rule(s) and the page will load as expected.