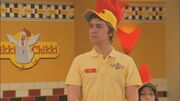 Teddy needs money for a new cell phone and gets a job as the neighborhood dog walker, but the job is less than glamorous. PJ gives Mitch (David Arnott), his boss at Kwikki Chikki, an idea for a new spokesmodel to bring in more customers, but when he expects Mitch to give the job to him, he makes Teddy the new spokesmodel after she walks into the restaurant. Teddy then comes up with a plan to get herself fired in order to give her brother the spotlight he deserves. Meanwhile, Amy sings a song with Charlie at her daycare and gets very competitive with the other mothers. Gabe uses a mouse to play a trick on Bob.
Ad blocker interference detected!
Wikia is a free-to-use site that makes money from advertising. We have a modified experience for viewers using ad blockers

Wikia is not accessible if you've made further modifications. Remove the custom ad blocker rule(s) and the page will load as expected.