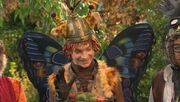 Teddy falls for a guy named Evan (Matt Prokop), who she finds is interested in Pokeo, (a spoof of Pokémon and Yu-Gi-Oh!), a fantasy card game for boys like Gabe. Teddy pretends to be interested in Pokeo to impress Evan. He then makes her play a game of L.A.R.P. out in public with him and his friends, which turns out to be another one of his hobbies. Meanwhile, Charlie pokes Amy in the eye and she pretends to be hurt to stay in the hospital longer so she does not have to take care of the kids. Meanwhile, Bob forgets to thank Amy in a speech after winning the exterminator of the year award so PJ and him try to remake the video at home so he can thank her.
Ad blocker interference detected!
Wikia is a free-to-use site that makes money from advertising. We have a modified experience for viewers using ad blockers

Wikia is not accessible if you've made further modifications. Remove the custom ad blocker rule(s) and the page will load as expected.