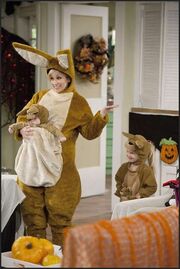 It's Toby's first Halloween and Amy wants Bob to dress up. On Halloween day, Amy dresses up in a kangaroo costume, complete with a pouch for Toby and Charlie. On the other hand, Bob puts a cape on over his exterminator uniform and calls himself Captain Extermo. Amy believes his costume is lousy and not in the Halloween spirit. Plus, Teddy enjoys PJ's cooking, so she asks him to cook an authentic French meal in honor of her one-year anniversary since she got back together with Spencer. Teddy decides to have their date take place at PJ's apartment so Spencer will not suspect anything. Later, Teddy and Spencer arrive at PJ's apartment, which Teddy has decorated in a Parisian theme. Furthermore, Teddy gets mad when Spencer does not remember how they met. Meanwhile, Gabe is tricked by Mrs. Dabney into attending a ceremony in honor of her charitable work.
Ad blocker interference detected!
Wikia is a free-to-use site that makes money from advertising. We have a modified experience for viewers using ad blockers

Wikia is not accessible if you've made further modifications. Remove the custom ad blocker rule(s) and the page will load as expected.