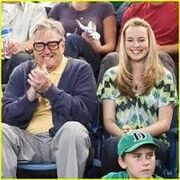 Mel can be crazy sometimes. Mel loves baseball and thinks one should be tough on a kid or they will get soft. When he was Bob's coach, he pushed him a lot, so he was the best. At the baseball game, he was shown to be both rude and irritable, insulting the baseball team and provoking a nearby mom who was demanding Teddy to stop Mel from scaring her kids, but unfortunately, to make things worse, he deliberately mooned the entire stadium as Teddy and Ivy were covering his rear end with their foam fingers, only Teddy, Ivy, and Mel were on the jumbo screen. At the house, Mel and Bob ended up becoming friendly towards each other, just before Mel had to go to the bathroom, only to accidentally use the closet as a bathroom instead.
Ad blocker interference detected!
Wikia is a free-to-use site that makes money from advertising. We have a modified experience for viewers using ad blockers

Wikia is not accessible if you've made further modifications. Remove the custom ad blocker rule(s) and the page will load as expected.