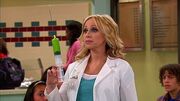 Just as Gabe is turning popular, Amy gets a part-time nursing job at his school. Gabe does not want Amy to ruin his biggest accomplishment, so they agree to pretend to not know each other; Amy uses her maiden name, Blankenhooper. Meanwhile, Teddy and Vonnie team-up to do a project, but the only reason Vonnie chose Teddy was to earn a good grade. When Teddy gets laryngitis, a clueless Vonnie is horrified because now she must do their project. Meanwhile, PJ has to baby-sit Charlie and Toby while Amy is working. After PJ's neighbor pays him to baby-sit her children, PJ and Emmett start a baby-sitting service.
Ad blocker interference detected!
Wikia is a free-to-use site that makes money from advertising. We have a modified experience for viewers using ad blockers

Wikia is not accessible if you've made further modifications. Remove the custom ad blocker rule(s) and the page will load as expected.