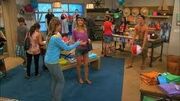 Skyler moves to New York City and does not tell PJ to spare his feelings. PJ then follows her to New York, but Bob goes after him. Meanwhile, Teddy is determined to take the perfect school picture. In order to earn money for her outfit, she gets a job at a beach store where Spencer is working. Meanwhile, Amy intrudes in Gabe's love life.
Ad blocker interference detected!
Wikia is a free-to-use site that makes money from advertising. We have a modified experience for viewers using ad blockers

Wikia is not accessible if you've made further modifications. Remove the custom ad blocker rule(s) and the page will load as expected.