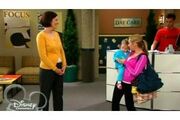 Gabe accuses Charlie of leaving the garage door open and allowing his bike to be stolen when it is really just a scheme to get his father to buy him a new bike. Teddy films a play for her drama class (a special day in their life) and she picks the day she finds out that Amy was pregnant with Charlie, but she accidentally reveals to Amy how she really felt when she heard that a new baby was on the way. Meanwhile, Emmett gets a new girlfriend, Nina, from South America, and it seems she's crushing on PJ.
Ad blocker interference detected!
Wikia is a free-to-use site that makes money from advertising. We have a modified experience for viewers using ad blockers

Wikia is not accessible if you've made further modifications. Remove the custom ad blocker rule(s) and the page will load as expected.