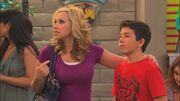 When the Duncans take a family trip to Super Adventure Land, Gabe and Amy get offered a job to be in a commercial; when they receive the script, Amy is upset that Gabe gets most of the lines and she only gets one, so Amy makes a few tweaks to the script. Meanwhile, Emmett gives Teddy a job at Super Adventure Land so she could save up for a new car. Teddy soon discovers that the job Emmett got her is to portray the princess in, The Princess & The Frog and Emmett is the frog. Also, Bob has noticed that PJ has a knack for cooking. He would do anything to keep him making his delicious food.
Ad blocker interference detected!
Wikia is a free-to-use site that makes money from advertising. We have a modified experience for viewers using ad blockers

Wikia is not accessible if you've made further modifications. Remove the custom ad blocker rule(s) and the page will load as expected.