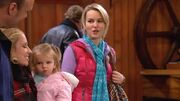 The Duncans go on a family road trip to a ski resort in the mountains. Teddy gets a reading from a psychic that she will meet the love of her life. Gabe abuses room service to get back at a bellhop (Steve Hytner) who used to be his teacher, PJ meets two sisters who take care of him after going on the wrong snowboarding trail. Bob and Amy find out they are not actually married because the judge who married them was a con artist.
Ad blocker interference detected!
Wikia is a free-to-use site that makes money from advertising. We have a modified experience for viewers using ad blockers

Wikia is not accessible if you've made further modifications. Remove the custom ad blocker rule(s) and the page will load as expected.