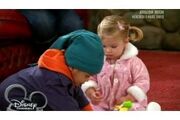 Gabe has to pay off the room service and PJ owes some money to a kid named Walker (Davis Cleveland), whom he met on the ski lift, so they enter an ice skating contest. Teddy does not know who to pick of the three guys she meets, so asks Ivy to meet her at the lodge to help her decide. Spencer tries to win Teddy back, which results in him kissing Teddy on the ski lift. Amy and Bob struggle after Bob does not want to get married again while on vacation. Teddy tells Spencer she wants to just be friends, after Amy and Bob renew their vows.
Ad blocker interference detected!
Wikia is a free-to-use site that makes money from advertising. We have a modified experience for viewers using ad blockers

Wikia is not accessible if you've made further modifications. Remove the custom ad blocker rule(s) and the page will load as expected.