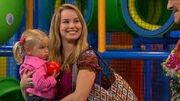 Bob confiscates Teddy's cell phone when she goes over her texting limit. Bob demands that she pays the bill; Teddy is forced to get a job at Otto's Grotto, dressed as an octopus. Her job is a complete nightmare when it comes to dealing with children who are out of control. Meanwhile, PJ uses Charlie as a girl magnet, but his plan backfires when his new girlfriend, Kayla (Skyler Day), only seems to be interested in Charlie. Elsewhere, Amy is obsessed with trying to beat Gabe at video game tennis.
Ad blocker interference detected!
Wikia is a free-to-use site that makes money from advertising. We have a modified experience for viewers using ad blockers

Wikia is not accessible if you've made further modifications. Remove the custom ad blocker rule(s) and the page will load as expected.