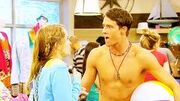 Spencer Walsh (Shane Harper) is Teddy's boyfriend. At first, they started dating after they begin studying together. He cheated on her in the episode "Girl Bites Dog", and Teddy broke up with him. In "Snow Show", he goes to the lodge that the Duncan family is staying at to get back together with Teddy. They share a kiss on the ski lift. At the end, they just decide to stay friends. He and Emmett share similar dancing abilities that rival each other, and they eventually become friends. In the episode, "Can You Keep a Secret?", he and Teddy get back together but they break up in "All Fall Down" because Spencer goes to college in New England.
Ad blocker interference detected!
Wikia is a free-to-use site that makes money from advertising. We have a modified experience for viewers using ad blockers

Wikia is not accessible if you've made further modifications. Remove the custom ad blocker rule(s) and the page will load as expected.