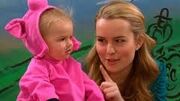 Teddy tries warming up to her English teacher Mr. Dingwall (Patrick Bristow) by having Charlie take part in her oral presentation on the book Animal Farm after seeing him take a liking to her, but when Charlie vomits on the English teacher, the plan goes downhill. Meanwhile, Gabe and his basketball team fire Bob as their coach and hire Amy instead, after winning their first game under her guidance, but soon realize their mistake. Also, PJ begins to spend way too much time with Amy's friends.
Ad blocker interference detected!
Wikia is a free-to-use site that makes money from advertising. We have a modified experience for viewers using ad blockers

Wikia is not accessible if you've made further modifications. Remove the custom ad blocker rule(s) and the page will load as expected.