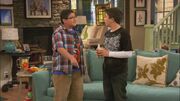 After accidentally breaking the one and only record made by Bob's old band, PJ gets the Bob Duncan Experience back together. PJ also learns the real reason why the band broke up. Meanwhile, Emmett proves to Teddy that she had promised to be his date to the Homecoming Dance in elementary school, so Teddy tries to hook him up with Alicia (Kiersey Clemons), the new girl in school. Gabe and his friend Leo (Rico Rodriguez) make a lemonade stand, but split up and compete for business after a falling-out over the profits.
Ad blocker interference detected!
Wikia is a free-to-use site that makes money from advertising. We have a modified experience for viewers using ad blockers

Wikia is not accessible if you've made further modifications. Remove the custom ad blocker rule(s) and the page will load as expected.