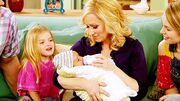 Linda (Shirley Jones), Bob's mother, comes to visit to help with Toby, but she ends up driving Amy crazy. Amy asks Teddy to get Linda away from her as much as possible. Meanwhile, Teddy and Spencer celebrate their tenth-month anniversary since they got back together. Meanwhile, Gabe and PJ find an old unmailed letter in a box of old things that Mrs. Dabney gave them. The letter says that a large amount of money is buried in Mrs. Dabney's backyard. Mischievous as they are, they start digging the exact location to find the money. In the end, Gabe and PJ realize they were part of Mrs. Dabney's evil scheme to get a hottub.
Ad blocker interference detected!
Wikia is a free-to-use site that makes money from advertising. We have a modified experience for viewers using ad blockers

Wikia is not accessible if you've made further modifications. Remove the custom ad blocker rule(s) and the page will load as expected.