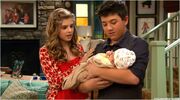 Harry, Ivy's father, is depressed about winning a lousy plumbing award and Teddy convinces him to keep pursuing his life-long dreams. Taking Teddy's advice, Harry opens a weather themed restaurant. Teddy and Ivy get jobs as waitresses, but they find out they have to be part of the restaurant's weather show. Teddy and Ivy do not like it, so they try to get fired. Meanwhile, Gabe begins to like Jade a girl at school and tries to convince her that he has a soft side. Back at the park, PJ and Emmett decide to have a rematch of the baby race (that they had in episode "Double Whammy"), but this time on tricycles.
Ad blocker interference detected!
Wikia is a free-to-use site that makes money from advertising. We have a modified experience for viewers using ad blockers

Wikia is not accessible if you've made further modifications. Remove the custom ad blocker rule(s) and the page will load as expected.